Huynh Xuan Hiep, Nguyen Huu Hoa, Nguyen Do Quynh, Nguyen Van Vy and Duong Nghia Quoc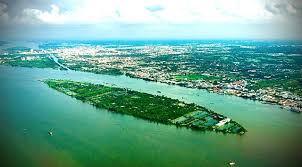 The digital transformation model applied to pangasius farming enterprises in particular and aquaculture, in general, should be carried out with five operational blocks, five knowledge areas, and five transformation steps.
Operational blocks
The digital transformation will be performed in the 5-block working model with three of the five blocks, belonging to the technology platform, including the operational backbone, the digital platform, and the external developer platform. The other two blocks which are related to organizational capacity include shared customer insights and an accountability framework.
Knowledge fields
The digital transformation will be implemented in five areas of knowledge consisting of (i) the Internet of things, (ii) blockchain, (iii) artificial intelligence, (iv) cloud computing, and (v) cybersecurity.
Transformation steps
The digital transformation process will proceed in the five stages/steps of digitizing, organizing, automating, streamlining, and transforming.