On September 15, 2022, at Can Tho University (CTU) took place the signing ceremony of a cooperation agreement between Syngenta Vietnam Co., Ltd (Syngenta Company) and CTU. There was Mr. Tran Thanh Vu - General Director of Syngenta Company and leaders and representatives of professional departments. On the side of CTU was Prof. Dr. Ha Thanh Toan – CTU's Rector, along with the teachers on the Board of Directors and representatives of the faculties, departments, and divisions.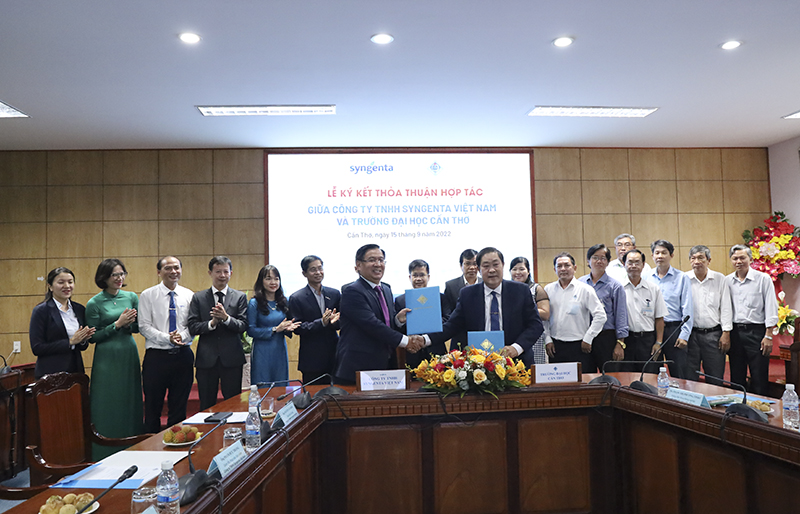 MOU signing for collaboration between CTU and Syngenta
At the ceremony, Mr. Nguyen Van Minh - Technical Director of Syngenta Company briefly introduced the company as well as its vision and mission. With the desire to develop sustainable agriculture, Syngenta always focuses on implementing advanced solutions, attracting high-quality human resources, applying technologies,applying the most advanced science to agricultural production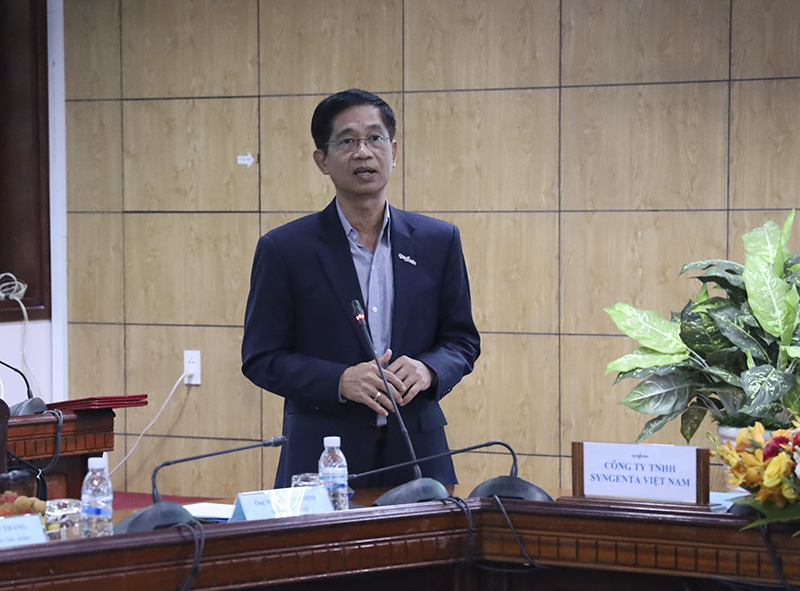 Mr. Nguyen Van Minh – Technical Director of Syngenta Company introduced about the company
Prof. Dr. Ha Thanh Toan – Rector, highlighted the mission of CTU as a center for training, scientific research, and technology transfer, effectively contributing to community service and the socio-economic development of the region and of the country. CTU has signed cooperation agreements in various fields with over 20 enterprises and 20 districts, especially signed comprehensive cooperation agreements with 7/13 provinces in the Mekong Delta.
GS. TS. Hà Thanh Toàn – Hiệu trưởng trường ĐHCT phát biểu tại buổi lễ
CTU and Syngenta Company have agreed to sign cooperation agreements in four main areas: training; scientific research; training, technology transfer; communication, and community service.
Regarding training, they will coordinate to build training programs and share practical knowledge. Creating conditions for industry internships at the company, and creating job opportunities after graduation for students. Support scholarships for students with outstanding academic achievements and scientific research.
Regarding scientific research, strengthen coordination in carrying out scientific research and testing projects in different fields for production. Actively participate in and support national and international scientific conferences.
Regarding training and technology transfer, strengthening annual training and technology transfer courses, building and applying production models in related fields.
Regarding communication and community service, strengthen the sharing of information, promote, perform social work and serve the community.
Mr. Tran Thanh Vu - General Director of Syngenta said: Identifying human resources as a factor leading to success, Syngenta always considers cooperation with research institutes and universities to coordinate training, Developing highly qualified human resources is one of the important goals. The cooperation program between Syngenta and CTU is an activity to promote scientific research and technology transfer to serve farmers.
Mr. Tran Thanh Vu - General Director of Syngenta made a speech
At the ceremony, Syngenta Company awarded 30 scholarships worth 5 million VND each to students with excellent academic achievements of CTU.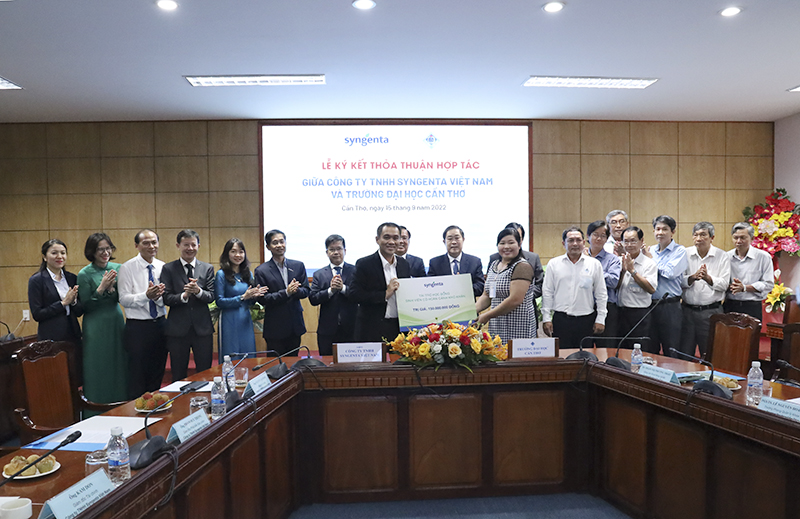 Syngenta Company awarded 30 scholarships to encourage learning, worth 150 million VND to students with excellent academic achievements at CTU
(CTU Media Team)